100 Mile Dinner at Like the Spice Gallery
catered by Urban Spring
September 28th
7:30pm - 9:30pm
seating begins at 7:00

On September 28th starting at 7:30pm, dine with Like The Spice and Urban Spring for a environmentally friendly 100 Mile Dinner including Eve Mosher and Anna Druzcz.

The challenge of the 100 Mile Dinner is to create an exciting and nutritious menu using only ingredients that have come from within a one hundred mile radius, resulting in an eco-friendly and sometimes adventurous meal. The experienced team at Urban Spring are dedicated to making delicious food with an eye toward sustainability and the future of our planet. A selection of local wines will also be provided.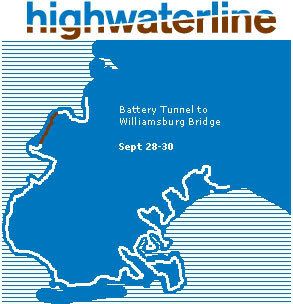 In attendance will be artist Eve Mosher, currently involved in her piece High Water Line. Eve is traveling the coast of New York, marking the shoreline with chalk and placing beacons to illustrate how and to where the water line could likely rise within our lifetimes. Her raw data comes from environmental and scientific journals and studies. She holds an MFA from Pratt Institute in Brooklyn (with a major in sculpture and a minor in photography) and a Bachelors of Environmental Design from Texas A & M University (with a major in architecture and a minor in photography). Eve will be passing the Williamsburg area between September 28th and September 30th, marking from Battery Tunnel to Williamsburg Bridge & Brooklyn Bridge Park. On the 28th, Eve will be placing beacons here at Like The Spice, and plans to discuss both the science and art behind her exciting project. For more information about her artist statement and vision, visit her website at www.highwaterline.org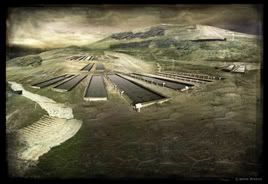 In conjunction with the 100 Mile Dinner is our current show, Anna Druzcz:Endemic Constructions, a series of photo manipulated landscapes that illustrate the clash and join between man and environment. Artist Anna Druzcz will be here in person to discuss her art, as well as the role of environmental issues within her work. Born in 1979 in Poland, Anna began her formal training at Beal Arts Secondary School's Vocational Art Program in London, Ontario. Following vigorous experimentation in a variety of mediums she chose to continue her undergraduate studies in photography at Ryerson Polytechnic University in Toronto. Currently, she is pursuing a MFA in Photography at the Rochester Institute of Technology. Endemic Constructions is on display until October 7th.
(click to view recent review of the show)
Cost for the evening, including dinner, is just $25. Wine by the glass will be available for an small additional charge. To reserve your place, call 718 -388-5388 or contact us at info@likethespice.com